"A couple thoughts on the closing of Maxwell's of Hoboken"
John Klett - June 2013

Another little piece of something goes away. Lots of memories there. When I moved to Hoboken, Washington street may have had a half a dozen cars parked on either side, per block.
By the time I moved the last of my crap out of the apartment (directly over the Maxwell's bar and across the hall from Steve Fallon) you could still find a spot not too too far down River Road, if you didn't want to circle around for more than fifteen minutes.
Now there are big condo towers where the Maxwell House coffee plant was, and forget about finding a place to park ... just drive directly to a pay garage. I think the last show I went to see there was the Feelies, almost a year ago. The crowd near the stage was pretty much the same... crowd near the bar not so much.
I use to climb out my kitchen window and on to the fire escape, and step over to the roof above the "back room", which is really another building. I'd sit there with my back against the skylight over the stage and listen to bands when I was not feeling sociable. The roof would bounce, lightly, up and down in time with the music.
That place may close down but the memories will live on. I play them back whenever I want - so, like the bathroom at CB's or the little window in the wall next to the stage at Tier 3, or the bad reflections off the curved mirror wall at Hurrahs and a hundred other little things - they never really go away.
---
a rambling slice of personal history
All histories are unique and personal and when people compare personal histories they don't always fit together perfectly because memories are selective and imperfect... that being said here are some of mine.
I moved to NYC in May or June 1976 after dropping out of college a couple times. Before that I lived and grew up mostly in Maryland. My room at the Iroquois Hotel on 44th Street between 6th and 7th cost $74 a week.
Music, for me, was and is, always going on internally and/or externally, but I can't really call myself a music "fan" in that I was never one for knowing and remembering, for all time, all the names and genealogies of bands and band members... but music is a must... it's mandatory for biasing up my brain... vibrating it into action.
I moved to NYC to go to a trade school called the Institute of Audio Research (IAR), and then do something with music. Maybe I would be a disc jockey and continue doing what had been distracting me from my studies ... I loved doing night shifts on the college radio stations. Maybe I would join or start a band. Maybe I would record engineer produce... all things were possible (still are really).
I ended up working in recording studios and doing some live sound and P.A.
In 1978 sometime (early '78 or maybe late '77?) I moved in to a loft on Jay Street in Brooklyn... over Sid's Hardware. The loft had been occupied by The Laughing Dogs, and there was a rehearsal recording room in the middle of it so I brought my drums up from Maryland. There were some left over electronics, a home made mixing console and various junk. I picked up a used console and along with my drums came my TEAC 3340, a Kustom PA head and speaker columns and some mics... and we had a recording studio.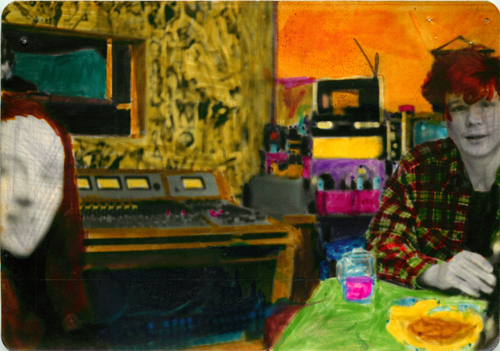 One of the early roommates was Richard Barone. He had been living there before David Fisher (aka Emerson Bimby) got that loft. Richie had come up from Florida where he had a band called Snails. His current band was "a" and through him I met Glenn Morrow. "a" played in the front room at Maxwell's in Hoboken and in various places around NYC that no longer exist. I went over to Hoboken and it was pretty awesome. It was like a ghost town... huge and affordable (even for artists and musicians) apartments... parking was a cinch so I could have a car there if I wanted.
"a" fissioned and Glen was a loose particle for a minute. He came over to the loft and we played a few songs and in the matter of a couple weeks Jon Klages and Janet Wygal were added and the Individuals quickly fused. We rehearsed in that loft initially and then moved our base to Hoboken.
David and I had a disagreement over something or other and I decided to move out of the loft. For a time I ended up living with Richie and Rob (Norris) on Hudson Street, across from the Maxwell House coffee plant, and around the corner from Maxwell's. The individuals needed a place to rehearse, or maybe we had already started rehearsing in the back room at Maxwell's. I don't have that chronology exact.
There was no P.A. back there but that was solved when I dragged in a P.A. system I bought from a friend of mine I met at IAR a couple years earlier (Mark Terry, who later became the President of Harmon Pro... JBL etc.). That P.A. lived in the back room of Maxwell's for years. Once that P.A. was there the back room became a viable venue and bands started playing in the back. Before that the room was used for private parties and events while the few live music events that happened were done in the front where the bar/restaurant was.
The huge speakers and horns people remember standing on either side of the stage in those early years were Altec "Voice Of the Theater" A-7's. The mixers were two 100 Watt Sunn Concert Controllers which were each six inputs and very minimal... the mics were Shure SM56's and 57's... the individual mic cables, bound together with bands of sticky black electrical tape, were laid on the little molding/shelf that crowned the top of the wooden wainscoting on the wall opposite the door that joined the back room to the front. Some plywood went up in the back corner to make a sound booth and that was it... very primitive, certainly not much there to fuck up, but workable. The "bleacher" steps came years later.
I think I was a terrible roommate... I had to get out of 1118 Hudson after only a few months. Richie and Rob had enough of me, but Steve Fallon had an apartment open above Maxwell's and he offered it to me. It was pretty reasonable and I think that it solved a problem for him because not very many people would have been able to tolerate the "noise". The juke box was pretty loud. One of the speakers was less than six feet away and just below the floor where I slept. The goings on in Steve's apartment, with bands sleeping there pretty regularly, were all part of the sonic background... it was great for me. I memorized the juke box and the only time it woke me up was when the records were changed.
So... the Individuals and the Bongos and... REM, the dB's, the Feelies, Pylon, The Mumps, Helen Wheels, Wire, R.Stevie Moore, Let's Action, Human Switchboard, The Fourskins, Information, The Cucumbers, Yo La Tengo, The Vores, The Raybeats, WKGB, Zev, The Cyclones, Husker Du, the Fleshtones, Robyn Hitchcock... there is no way I can remember all the bands I saw and heard there... actually I am looking at some of the Maxwell's xeroxed flyers stapled to my wall for some of those names...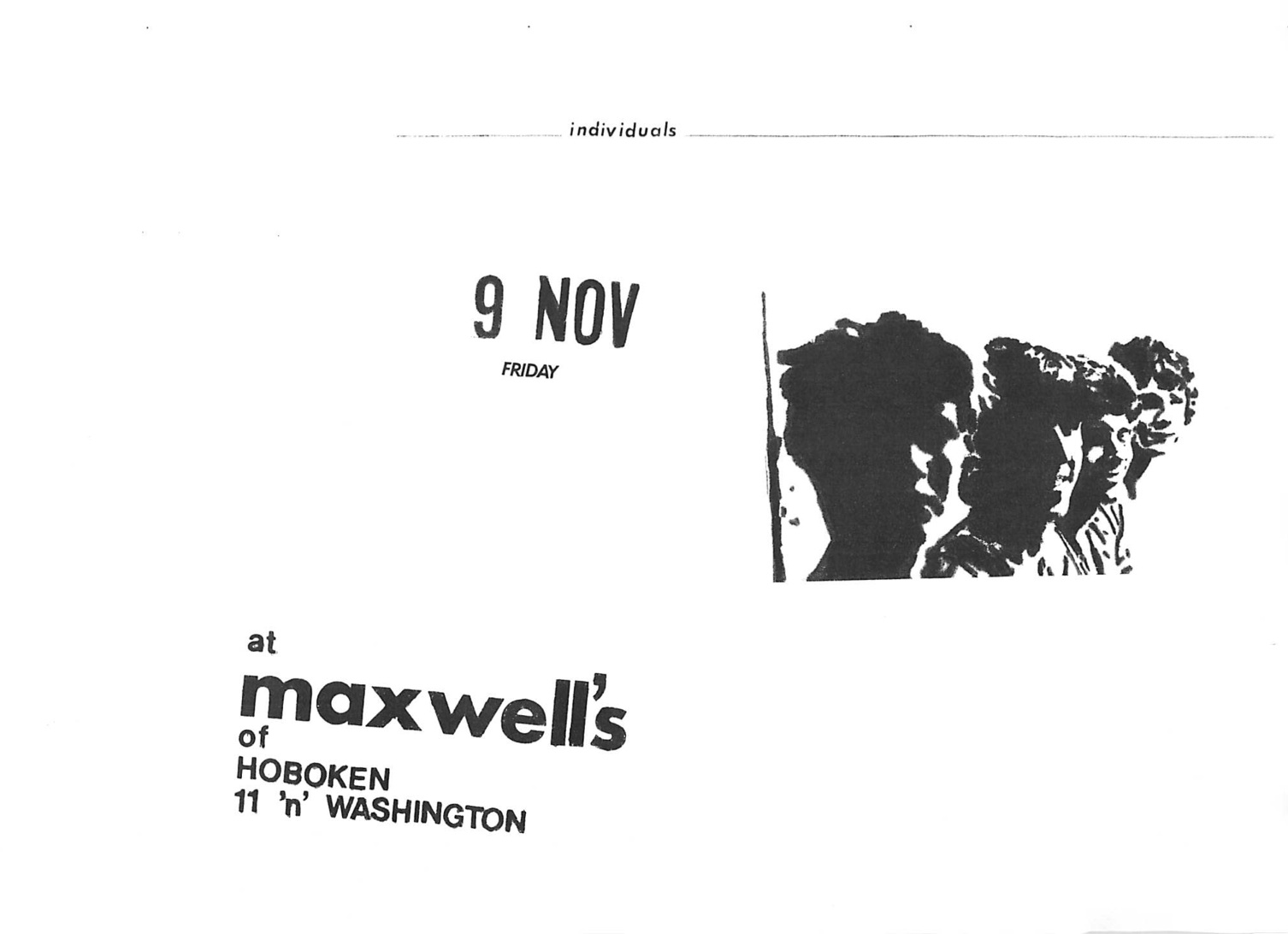 I left the Individuals before they released anything. I had a serious aversion to seriousness and at some point it stopped being fun and became more about working toward getting signed... I guess... I have no idea... I left. I was working my ass off in studios engineering and doing tech work and was working with a couple friends I met while covering nights at Penny Lane studios (in the MGM building on 6th Ave in NYC) where the GoGo's, Tom Verlaine, Kiss and others recorded and mixed at night. The place was a jingle house by day called Radio Band. The three of us (John Terelle, Tara Shanahan, and I) were studio rats and we wanted to record stuff and get work producing and engineering. So after a day of "ad-goons" I came in (from another ad studio called "Trackworks") and we all worked a second shift with people like Roy Thomas Baker, Richard Gottehrer and others... I was too busy to really remember. When other bands were not booking that studio, and if I was not playing out somewhere, we would play... we had recorded some music that was synth-guitar-bass-drums and Tara's vocals and generally kind of odd, but cool, and we stuck that on a demo reel with some other bands that John and Tara had engineered/produced... and, of course, no one wanted to hire any of us to produce or engineer... they wanted to sign that weird Hawaiian Pups "band"... NOT the Bloodless Pharaohs (Brian Setzer's band before he went to England). With all this activity I was not sleeping, and something had to give, so I snapped and bailed on the Individuals. Fortunately Janet's brother Doug played drums and he picked it right up, so that worked out.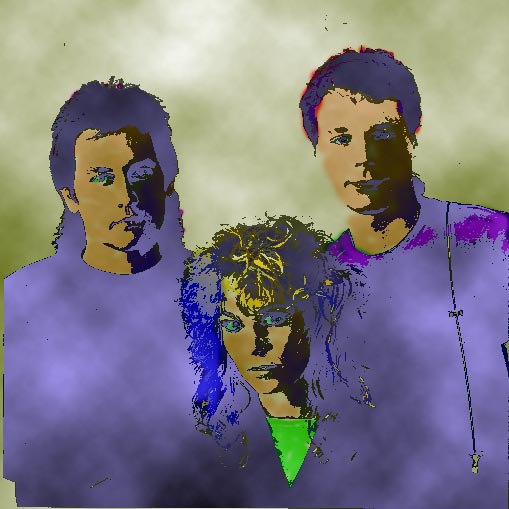 The Hawaiian Pups sort of existed for a few years and got a record out. We never played live because each of us played multiple parts and there was no sequencing or anything. We actually had a "no tour" clause in the record contract because we had jobs and work we wanted to keep (imagine that). Being signed to a label, a CBS subsidiary no less, sucked. I will always be grateful to Cyndi Lauper for coming along. Lennie Petze, who ran Portrait Records, dropped EVERYONE when Cyndi came on board. I ran in to Lennie and Cyndi at the Marriot Marquis in L.A. when I was working somewhere there (I worked anywhere there was work to do)... they were sitting by the pool and I walked up... Lennie looked very uncomfortable, because that was the first time we saw each other since we were dropped, and I thanked him for dropping us... Cyndi has a great laugh.
I was in another live band for a while - around 1983 or so I guess - called the Riff Doctors and we played at Maxwell's, the Danceteria and other places. That was a fun band... Frank Bednash (Riff Doctors) and Donna Esposito (Cyclones) got together after that and did a number of bands starting with Cowboy and Spin Girl, Toothpaste 2000 and Mas Rapido.
The late '70's and early '80's was a fun time. Everyone I knew was in a band or working with bands in studios or live.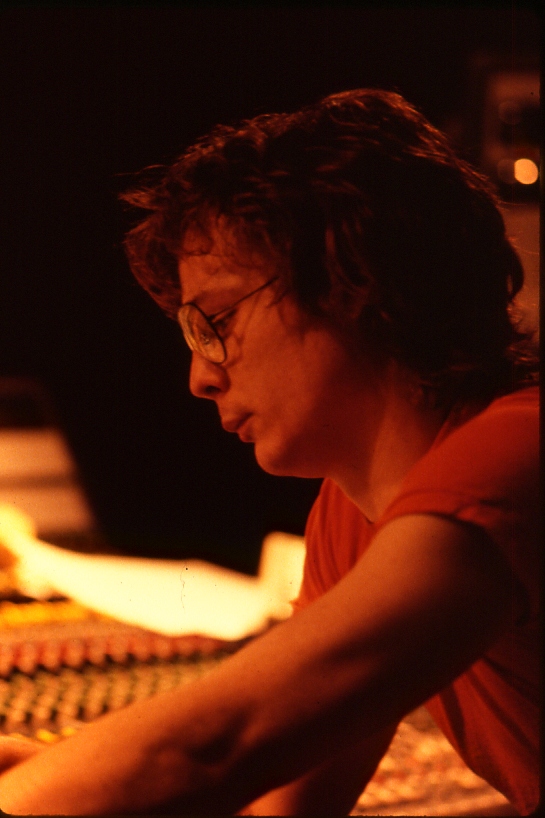 I was in the studio with all kinds of people... from Harry Chapin to Judy Nylon. I met Chris Stamey during some Alex Chilton sessions at Secret Sound Studio and then ran in to him again when we (the Individuals) were playing shows with the dB's. We played a lot of shows with those guys. The arguments back stage were incredible but the playing was fantastic... always... I remember sitting in on dB's sessions at Blue Rock.
I had seen Television more times than I can accurately count... and several times at My Father's Place out on the Island... and then Tom was recording a solo record at Penny Lane where I was working nights. I saw Jim Mastro playing in the Richard Lloyd Band at Max's. Then Jim hooked up with Richard Barone to record as Nuts and Bolts.
In 1977 I worked at a studio/label in Englewood called All Platinum Records and worked with the house bands there, the Moments, Brother to Brother, and some combinations with various featured artists... six years later I recorded a record for Ray Goodman and Brown. All Platinum was run like Motown in a way. Set up, arrange, rehearse, record and complete a tune in one day and cut lacquers at the end. I used to cut lacquers on a Scully lathe they had upstairs. All Platinum was owned by Joe and Sylvia Robinson and somehow I was tasked with watching the "kids" from time to time... so I'd walk this crew of kids up to MacDonald's late at night and we'd fall into step and the kids would rap in time with the walking. That was Joey Robinson and his friends ... and a couple years later the Sugar Hill Gang and Sugar Hill records came in to existence.
I met my wife Mary-Ann Sievert at Maxwell's in 1982 or '83. She had finished up at Parsons and was weaving tapestries in her apartment on Washington Street and in a commercial studio in NYC. She worked Tuesday nights waitressing. Maxwells recruited help from the regulars there... like "you're here all the time... can you do Tuesday nights?". We were married in 1985. Steve Fallon was best man... and I really can't imagine having a better best man than Steve. Martha Griffen and Mary Soderman were maids of honor. Martha was one of the excellent bartenders at Maxwell's. Martha was in the Bruce Springsteen video he shot at Maxwell's (Glory Days) and later went on to the film biz and produced the movie "Girl Fight". Mary Soderman was waitressing at Maxwell's and has since become an E.R. nurse an Columbia Presbyterian.
Mary-Ann and I bought a house in Putnam County in 1987. I kept the apartment over Maxwell's until 1990 or so. That was my studio/shop/storage spot and I had people staying there - musicians. Frank Bednash (Riff Doctors) and Donna Esposito were there for maybe a year. I remember that Donna had broken her leg and had this insane cast. It was only one flight up but that had to be a pain in the ass.
Maxwell's was the center of a big Universe. It was an extended family. That time for me was like a big Gumbo of musical wonderfulness that went about 20 hours a day... so many flavors... it was so sweet.
I could rummage around in my memory attic and pull out more but I'll refrain. Maxwell's was great. I am not going to miss it because it will never be gone for me. I can totally "get" why Todd is hanging it up. There has to be a better place. Hoboken is not the same place. The people are all different. I would imagine that some place in Jersey City would be better and so we can hope Todd does something there, or somewhere where there is better access and parking.
and time marches on... relentlessly... no reason to get sad about it as time does not care what you think.
Besides... The past is a great place to visit but you can't live there. I don't know about you but I need to keep busy, learn and do new things and make new memories all the time... that makes for a bigger memory landscape to visit when there is time for such things.
Today I work with people like James Murphy who is doing fun stuff. I build things. I work with a few regular clients. I make really terrible electronic music that I play for myself really loudly when no one is around. John Terelle and I keep talking about doing things... for now we have started spinning vinyls at a bar in Greenpoint maybe once every six weeks... one turntable - quick changes...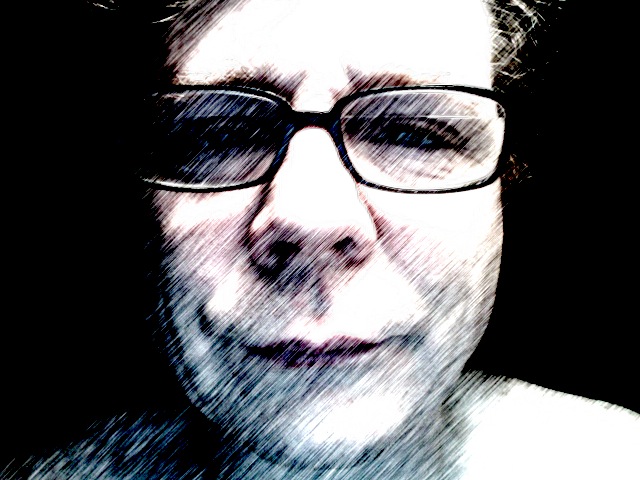 John Klett
http://www.technicalaudio.com
http://www.johnklett.com
http://www.hawaiianpups.com
http://www.nonlinearaudio.com


---
v0.1 the typo edition - 13 June
v0.2 less typos - some facts checked - 14 June
all material on johnklett.com is copyright John Klett, Carmel, NY - all rights reserved

for permissions contact